Update 11/11/2020: I've followed this post up with Ubiquiti Home Network Setup – part 2
This is kind of a follow up to my previous post, My Experience With Consumer Mesh Wireless Devices
Due to unfortunate personal circumstances I've not actually been at home recently, so as far as my home setup goes, I've only made minor progress. I've decided I will go all in and refresh my home network setup to a Ubiquiti system. At present that's involved getting a Ubiquiti UDM coupled with a Draytek 130 modem to replace the core of the network. This will be further supplemented with a FlexHD AP somewhere else in the house when I've had chance to actually do a bit of a site survey. I've no space for racking any kit, so have had to go with the UDM rather than the UDM Pro.
At my parents house however, I've spent ample time and that meant I had an urgent need to make some changes to their network, as I've had to work from there for the last three months. They were basically in the same boat as myself in terms of wanting blanket wireless coverage, with the exception that they have a fairly large house that's quite long, and has been extended, so has internal walls that were external walls, making them thicker than usual.
I started with the same Ubiquiti UDM, Draytek 130 and added a FlexHD, two AC Lite APs, and a couple of Flex Mini switches, with a few long cable runs this has improved things massively for them.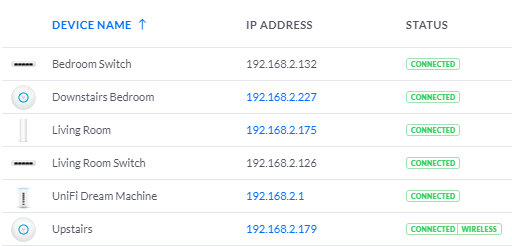 In total there's approximately 40 network clients, and everything seems to be working great after I'd done a little tuning around channels and transmit powers. The FlexHD covers off the end of the house with the most wireless clients, as you can see on this cool map: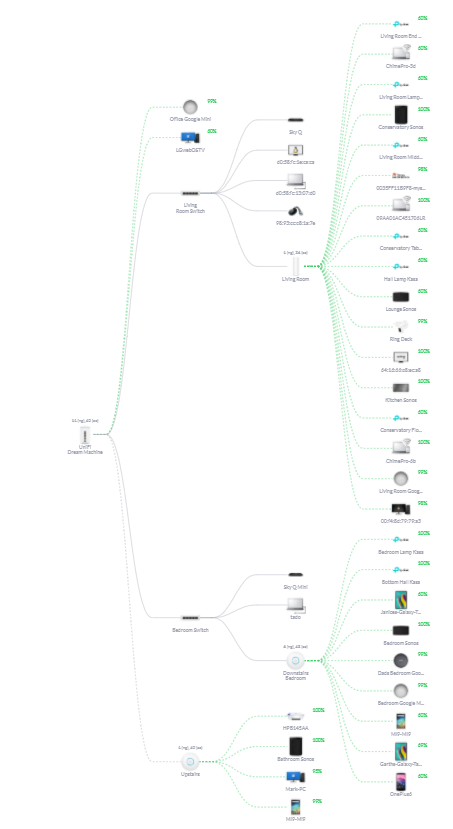 My goal here was stability and internet connectivity, there's no need for them to be pushing insane speeds with 80 or 160Mhz wide 5Ghz channels, it'd just create noise and use up airtime unnecessarily, this is purely for internet connectivity, and that's exactly what I've managed to achieve. Problems with their previous kit were frequent, with drop outs or weird bugs in software, but since the upgrade, everything has been very stable and I must say I'm a full convert to Ubiquiti kit, it's been absolutely great to use.
One cool thing that I have seen through the Ubiquiti kit, is the absolute proliferation of wireless hotspots in cars and on phone. Sat in their house I can generally see three other neighbouring access points when I check wireless networks available, which are the neighbours either side and the house over the street. However, looking at the neighbouring access points list in the console, shows me 206 access points in a 24 hour period!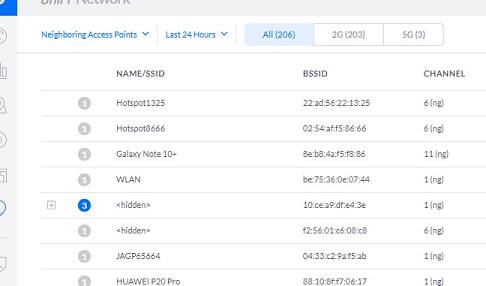 All the static ones in neighbours houses will be there, but swamped out by the sheer number that pass in cars, and are only ever seen briefly, as their house backs onto a relatively busy road, and the clue that these are in cars is in the AP names;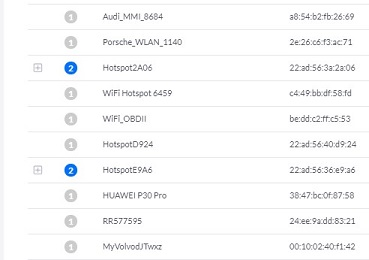 There's a lot of cool features on the Ubiquiti kit, and if you're a bit of a network or IT nerd, I'd highly recommend it if you've been struggling with home wireless.
Still to come
Next up will be the network changes when I get home. I'd imagine it'll be a very similar setup to the one I've done for my parents, as anything that needs high speeds or low latency, like the NAS or my gaming PC will be wired, and wireless just need to be stable and of more than internet speeds. So look out for that to come in the next few weeks hopefully, I'm looking forward to doing it all again at home.